Zdravím Vás,
v posledných dňoch sa na tomto PC vyskytuje často (v podstate neustále) problém, pri vyhľadávaní cez google.
ADW cleaner si s tým neporadil, hoc niečo zmazal, antivir (MSE) nič nenašiel pri kontrole a s inými stránkami sa nič zvláštne neprejavuje.
Google sa chová inak cez vyhľadávanie na stránke ako cez lištu. Keď zadám napr. aukro do kolonky na stránke google.cz, padne to do chyby (viz. príloha), zadám to rovno do lišty na
http://www.stranku
vybehne mi zoznam stránok bez problému.
Příloha: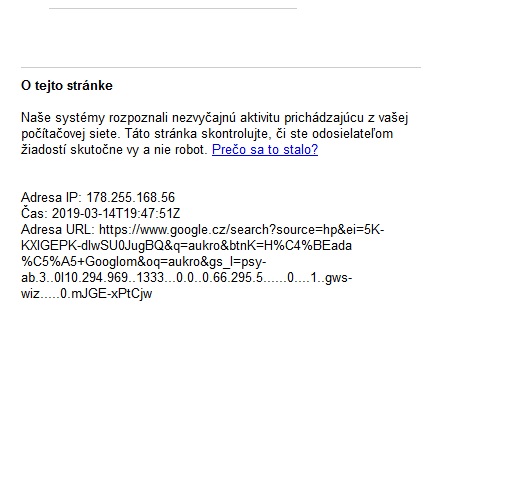 Google_problem.jpg [ 53.22 KiB | Zobrazeno 126 krát ]
FRST:
Scan result of Farbar Recovery Scan Tool (FRST) (x64) Version: 13.03.2019 01
Ran by Aňulinka (administrator) on MATEJI-PC (14-03-2019 20:37:34)
Running from C:\Users\Aňulinka\Desktop
Loaded Profiles: Aňulinka (Available Profiles: MatejI & Bonus & Bez hesla & Aňulinka)
Platform: Windows 7 Professional Service Pack 1 (X64) Language: Slovenčina (Slovensko)
Internet Explorer Version 9 (Default browser: FF)
Boot Mode: Normal
Tutorial for Farbar Recovery Scan Tool:
http://www.geekstogo.com/forum/topic/33 ... scan-tool/
==================== Processes (Whitelisted) =================
(If an entry is included in the fixlist, the process will be closed. The file will not be moved.)
(Microsoft Corporation -> Microsoft Corporation) C:\Program Files\Microsoft Security Client\MsMpEng.exe
(Adobe Systems, Incorporated -> Adobe Systems Incorporated) C:\Program Files (x86)\Common Files\Adobe\ARM\1.0\armsvc.exe
(Atheros Communications Inc. -> Atheros Commnucations) [File not signed] C:\Program Files (x86)\Bluetooth Suite\AdminService.exe
(Conexant Systems, Inc. -> Conexant Systems Inc.) C:\Windows\System32\CxAudMsg64.exe
(Dritek System Inc. -> Dritek System Inc.) C:\Program Files (x86)\Launch Manager\dsiwmis.exe
() [File not signed] C:\ProgramData\Readers Digest\Eng20s.exe
(Dritek System Inc. -> Dritek System Inc.) C:\Program Files (x86)\Launch Manager\LMutilps32.exe
(Acer Incorporated -> Acer Incorporated) C:\Program Files\Acer\Acer ePower Management\ePowerSvc.exe
(Acer Incorporated) [File not signed] C:\Program Files (x86)\Acer\Registration\GREGsvc.exe
(Microsoft Windows -> Microsoft Corporation) C:\Windows\SysWOW64\svchost.exe
(Realtek Semiconductor Corp -> Realsil Microelectronics Inc.) C:\Program Files (x86)\Realtek\Realtek PCIE Card Reader\RIconMan.exe
(Acer Incorporated -> Acer Incorporated) C:\Program Files\Acer\Acer Updater\UpdaterService.exe
(Symantec Corporation -> Symantec Corporation) C:\Program Files (x86)\Symantec\Norton Online Backup\NOBuAgent.exe
(NTI Corporation -> NTI Corporation) C:\Program Files (x86)\NTI\Acer Backup Manager\IScheduleSvc.exe
(Protexis Inc. -> Protexis Inc.) C:\Program Files (x86)\Common Files\Protexis\License Service\PsiService_2.exe
(Acer Incorporated -> Acer Incorporated) C:\Program Files (x86)\Acer\Acer VCM\RS_Service.exe
(Microsoft Corporation -> Microsoft Corporation) C:\Program Files\Microsoft Security Client\NisSrv.exe
(Microsoft Windows -> Microsoft Corporation) C:\Windows\System32\alg.exe
(Atheros Communications Inc. -> Atheros Communications) [File not signed] C:\Program Files (x86)\Bluetooth Suite\BtvStack.exe
(Atheros Communications Inc. -> Atheros Commnucations) [File not signed] C:\Program Files (x86)\Bluetooth Suite\AthBtTray.exe
(Synaptics Incorporated -> Synaptics Incorporated) C:\Program Files\Synaptics\SynTP\SynTPEnh.exe
(Acer Incorporated -> Acer Incorporated) C:\Program Files\Acer\Acer ePower Management\ePowerTray.exe
(Microsoft Corporation -> Microsoft Corporation) C:\Program Files\Microsoft Security Client\msseces.exe
(Intel Corporation - Software and Firmware Products -> Intel Corporation) C:\Windows\System32\igfxtray.exe
(Intel Corporation - Software and Firmware Products -> Intel Corporation) C:\Windows\System32\hkcmd.exe
(Intel Corporation - Software and Firmware Products -> Intel Corporation) C:\Windows\System32\igfxpers.exe
(Intel Corporation - Software and Firmware Products -> Intel Corporation) C:\Windows\System32\igfxsrvc.exe
(Acer Incorporated -> Acer Incorporated) C:\Program Files (x86)\Acer\Acer VCM\AcerVCM.exe
(Intel Corporation - Software and Firmware Products -> Intel Corporation) C:\Windows\System32\igfxext.exe
(Synaptics Incorporated -> Synaptics Incorporated) C:\Program Files\Synaptics\SynTP\SynTPHelper.exe
(Intel Corporation -> Intel Corporation) C:\Program Files (x86)\Intel\Intel(R) Integrated Clock Controller Service\ICCProxy.exe
(NTI Corporation -> NTI Corporation) C:\Program Files (x86)\NTI\Acer Backup Manager\BackupManagerTray.exe
(Dritek System Inc. -> Dritek System Inc.) C:\Program Files (x86)\Launch Manager\LManager.exe
(Power Software Ltd -> Power Software Ltd) C:\Program Files\PowerISO\PWRISOVM.EXE
(Dritek System Inc. -> Dritek System Inc.) C:\Program Files (x86)\Launch Manager\MMDx64Fx.exe
(Dritek System Inc. -> Dritek System Inc.) C:\Program Files (x86)\Launch Manager\LMworker.exe
(Dritek System Inc. -> Dritek System Inc.) C:\Program Files (x86)\Launch Manager\LMutilps.exe
(Acer Incorporated -> Acer Incorporated) C:\Program Files\Acer\Acer ePower Management\ePowerEvent.exe
(Microsoft Windows -> Microsoft Corporation) C:\Windows\System32\dllhost.exe
(Intel Corporation -> Intel Corporation) C:\Program Files (x86)\Intel\Intel(R) Rapid Storage Technology\IAStorDataMgrSvc.exe
(Corel Corporation -> InterVideo) C:\Program Files (x86)\Common Files\InterVideo\RegMgr\iviRegMgr.exe
(Intel Corporation -> Intel Corporation) C:\Program Files (x86)\Intel\Intel(R) Management Engine Components\LMS\LMS.exe
(Intel Corporation -> Intel Corporation) C:\Program Files (x86)\Intel\Intel(R) Management Engine Components\UNS\UNS.exe
(Mozilla Corporation -> Mozilla Corporation) C:\Program Files (x86)\Mozilla Firefox\firefox.exe
(Mozilla Corporation -> Mozilla Corporation) C:\Program Files (x86)\Mozilla Firefox\firefox.exe
(Mozilla Corporation -> Mozilla Corporation) C:\Program Files (x86)\Mozilla Firefox\firefox.exe
(Mozilla Corporation -> Mozilla Corporation) C:\Program Files (x86)\Mozilla Firefox\firefox.exe
(Mozilla Corporation -> Mozilla Corporation) C:\Program Files (x86)\Mozilla Firefox\firefox.exe
==================== Registry (Whitelisted) ===========================
(If an entry is included in the fixlist, the registry item will be restored to default or removed. The file will not be moved.)
HKLM\...\Run: [AtherosBtStack] => C:\Program Files (x86)\Bluetooth Suite\BtvStack.exe [976032 2011-09-16] (Atheros Communications Inc. -> Atheros Communications) [File not signed]
HKLM\...\Run: [AthBtTray] => C:\Program Files (x86)\Bluetooth Suite\AthBtTray.exe [799904 2011-09-16] (Atheros Communications Inc. -> Atheros Commnucations) [File not signed]
HKLM\...\Run: [SynTPEnh] => C:\Program Files\Synaptics\SynTP\SynTPEnh.exe [2697512 2011-02-17] (Synaptics Incorporated -> Synaptics Incorporated)
HKLM\...\Run: [Power Management] => C:\Program Files\Acer\Acer ePower Management\ePowerTray.exe [1831528 2011-05-10] (Acer Incorporated -> Acer Incorporated)
HKLM\...\Run: [MSC] => C:\Program Files\Microsoft Security Client\msseces.exe [1289704 2012-09-12] (Microsoft Corporation -> Microsoft Corporation)
HKLM-x32\...\Run: [BackupManagerTray] => C:\Program Files (x86)\NTI\Acer Backup Manager\BackupManagerTray.exe [297280 2011-04-24] (NTI Corporation -> NTI Corporation)
HKLM-x32\...\Run: [LManager] => C:\Program Files (x86)\Launch Manager\LManager.exe [1110096 2011-07-01] (Dritek System Inc. -> Dritek System Inc.)
HKLM-x32\...\Run: [PWRISOVM.EXE] => C:\Program Files\PowerISO\PWRISOVM.EXE [337432 2013-01-27] (Power Software Ltd -> Power Software Ltd)
HKLM-x32\...\Run: [GrooveMonitor] => C:\Program Files (x86)\Microsoft Office\Office12\GrooveMonitor.exe [31016 2006-10-27] (Microsoft Corporation -> Microsoft Corporation)
HKU\S-1-5-21-2120634711-718080741-244013268-1005\...\Run: [CCleaner Smart Cleaning] => C:\Program Files\CCleaner\CCleaner64.exe [22488952 2019-03-11] (Piriform Software Ltd -> Piriform Software Ltd)
HKU\S-1-5-21-2120634711-718080741-244013268-1005\Control Panel\Desktop\\SCRNSAVE.EXE -> C:\Windows\System32\Acer.scr [450048 2011-09-13] () [File not signed]
HKLM\...\Drivers32: [msacm.l3acm] => C:\Windows\SysWOW64\l3codecp.acm [220672 2009-07-14] (Microsoft Windows -> Fraunhofer Institut Integrierte Schaltungen IIS)
HKLM\...\Drivers32: [VIDC.XVID] => C:\Windows\SysWOW64\xvidvfw.dll [243200 2011-06-24] () [File not signed]
HKLM\...\Drivers32: [VIDC.LAGS] => C:\Windows\SysWOW64\lagarith.dll [216064 2011-12-07] ( ) [File not signed]
HKLM\...\Drivers32: [VIDC.FFDS] => C:\Windows\SysWOW64\ff_vfw.dll [112640 2012-09-20] () [File not signed]
HKLM\...\Drivers32: [msacm.ac3acm] => C:\Windows\SysWOW64\ac3acm.acm [151552 2011-12-21] (fccHandler) [File not signed]
HKLM\Software\Wow6432Node\Microsoft\Active Setup\Installed Components: [{8A69D345-D564-463c-AFF1-A69D9E530F96}] -> "C:\Program Files (x86)\Google\Chrome\Application\57.0.2987.133\Installer\chrmstp.exe" --configure-user-settings --verbose-logging --system-level
HKLM\Software\Wow6432Node\Microsoft\Active Setup\Installed Components: [{A6EADE66-0000-0000-484E-7E8A45000000}] -> C:\Program Files (x86)\Adobe\Acrobat Reader DC\Esl\AiodLite.dll [2018-06-29] (Adobe Systems, Incorporated -> Adobe Systems, Inc.)
HKLM\Software\...\Authentication\Credential Providers: [{65CD7F9B-E8F3-4bb0-82EB-6F6875B745DF}] -> C:\Windows\system32\LMIinit.dll [2012-10-19] (LogMeIn, Inc. -> LogMeIn, Inc.)
HKLM\Software\...\Authentication\Credential Providers: [{ACFC407B-266C-8504-8DAE-F3E276336E4B}] -> C:\Windows\system32\AthCredentialProvider.dll [2011-09-16] (Atheros Communications Inc. -> Atheros Commnucations) [File not signed]
HKLM\Software\...\Authentication\Credential Providers: [{F8A0B131-5F68-486c-8040-7E8FC3C85BB6}] -> C:\Program Files\Common Files\Microsoft Shared\Windows Live\WLIDCREDPROV.DLL [2011-03-29] (Microsoft Corporation -> Microsoft Corp.)
HKLM\Software\...\Authentication\Credential Provider Filters: [{ACFC407B-266C-8504-8DAE-F3E276336E4B}] -> C:\Windows\system32\AthCredentialProvider.dll [2011-09-16] (Atheros Communications Inc. -> Atheros Commnucations) [File not signed]
Lsa: [Notification Packages] scecli EgisPwdFilter EgisDSPwdFilter
Startup: C:\ProgramData\Microsoft\Windows\Start Menu\Programs\Startup\Acer VCM.lnk [2011-10-21]
ShortcutTarget: Acer VCM.lnk -> C:\Program Files (x86)\Acer\Acer VCM\AcerVCM.exe (Acer Incorporated -> Acer Incorporated)
==================== Internet (Whitelisted) ====================
(If an item is included in the fixlist, if it is a registry item it will be removed or restored to default.)
Tcpip\Parameters: [DhcpNameServer] 10.255.255.10 10.255.255.20
Tcpip\..\Interfaces\{156992E0-0E32-48C7-B071-415B3D2F23AD}: [DhcpNameServer] 10.255.255.10 10.255.255.20
Tcpip\..\Interfaces\{920DF4B1-0DBD-4E99-A6C8-0BC9A8D000ED}: [DhcpNameServer] 8.8.8.8 8.8.4.4
Tcpip\..\Interfaces\{ED19031C-F4DA-438A-867A-5C0142534B15}: [DhcpNameServer] 192.168.8.1
Internet Explorer:
==================
HKLM\Software\Microsoft\Internet Explorer\Main,Start Page =
hxxp://go.microsoft.com/fwlink/?LinkID= ... AB34B70940
HKLM\Software\Wow6432Node\Microsoft\Internet Explorer\Main,Start Page =
HKLM\Software\Microsoft\Internet Explorer\Main,Search Page =
HKLM\Software\Wow6432Node\Microsoft\Internet Explorer\Main,Search Page =
HKLM\Software\Microsoft\Internet Explorer\Main,Default_Page_URL =
HKLM\Software\Wow6432Node\Microsoft\Internet Explorer\Main,Default_Page_URL =
HKLM\Software\Microsoft\Internet Explorer\Main,Default_Search_URL =
HKLM\Software\Wow6432Node\Microsoft\Internet Explorer\Main,Default_Search_URL =
HKU\S-1-5-21-2120634711-718080741-244013268-1005\Software\Microsoft\Internet Explorer\Main,Start Page =
hxxp://go.microsoft.com/fwlink/?LinkID= ... AB34B70940
SearchScopes: HKLM -> DefaultScope value is missing
SearchScopes: HKLM -> {0633EE93-D776-472f-A0FF-E1416B8B2E3A} URL =
hxxp://www.bing.com/search?q=
{searchTerms}&form=AARTDF&pc=MAAR&src=IE-SearchBox
SearchScopes: HKLM-x32 -> DefaultScope value is missing
SearchScopes: HKLM-x32 -> {0633EE93-D776-472f-A0FF-E1416B8B2E3A} URL =
hxxp://www.bing.com/search?q=
{searchTerms}&form=AARTDF&pc=MAAR&src=IE-SearchBox
SearchScopes: HKU\S-1-5-21-2120634711-718080741-244013268-1005 -> DefaultScope {2023ECEC-E06A-4372-A1C7-0B49F9E0FFF0} URL =
hxxp://www.bing.com/search?q=
{searchTerms}&form=MSSEDF&pc=MSSE
SearchScopes: HKU\S-1-5-21-2120634711-718080741-244013268-1005 -> {2023ECEC-E06A-4372-A1C7-0B49F9E0FFF0} URL =
hxxp://www.bing.com/search?q=
{searchTerms}&form=MSSEDF&pc=MSSE
BHO: Windows Live ID Sign-in Helper -> {9030D464-4C02-4ABF-8ECC-5164760863C6} -> C:\Program Files\Common Files\Microsoft Shared\Windows Live\WindowsLiveLogin.dll [2011-03-29] (Microsoft Corporation -> Microsoft Corp.)
BHO-x32: HP Print Enhancer -> {0347C33E-8762-4905-BF09-768834316C61} -> C:\Program Files (x86)\HP\Digital Imaging\Smart Web Printing\hpswp_printenhancer.dll [2009-09-20] (Hewlett-Packard Company -> Hewlett-Packard Co.)
BHO-x32: Groove GFS Browser Helper -> {72853161-30C5-4D22-B7F9-0BBC1D38A37E} -> C:\Program Files (x86)\Microsoft Office\Office12\GrooveShellExtensions.dll [2006-10-27] (Microsoft Corporation -> Microsoft Corporation)
BHO-x32: No Name -> {761497BB-D6F0-462C-B6EB-D4DAF1D92D43} -> No File
BHO-x32: CIESpeechBHO Class -> {8D10F6C4-0E01-4BD4-8601-11AC1FDF8126} -> C:\Program Files (x86)\Bluetooth Suite\IEPlugIn.dll [2011-09-17] (Atheros Communications Inc. -> Atheros Commnucations) [File not signed]
BHO-x32: Windows Live ID Sign-in Helper -> {9030D464-4C02-4ABF-8ECC-5164760863C6} -> C:\Program Files (x86)\Common Files\Microsoft Shared\Windows Live\WindowsLiveLogin.dll [2011-03-29] (Microsoft Corporation -> Microsoft Corp.)
BHO-x32: No Name -> {DBC80044-A445-435b-BC74-9C25C1C588A9} -> No File
BHO-x32: HP Smart BHO Class -> {FFFFFFFF-CF4E-4F2B-BDC2-0E72E116A856} -> C:\Program Files (x86)\HP\Digital Imaging\Smart Web Printing\hpswp_BHO.dll [2009-09-20] (Hewlett-Packard Company -> Hewlett-Packard Co.)
Handler-x32: skype4com - {FFC8B962-9B40-4DFF-9458-1830C7DD7F5D} - C:\Program Files (x86)\Common Files\Skype\Skype4COM.dll [2016-09-23] (Skype Software Sarl -> Skype Technologies)
FireFox:
========
FF DefaultProfile: j28jan50.default-1495537535176
FF ProfilePath: C:\Users\Aňulinka\AppData\Roaming\Mozilla\Firefox\Profiles\j28jan50.default-1495537535176 [2019-03-14]
FF ProfilePath: C:\Users\Aňulinka\AppData\Roaming\Mozilla\Firefox\Profiles\8aqkhh84.default-1511091948463 [2019-03-14]
FF HKLM-x32\...\Firefox\Extensions: [{d4da7309-b89a-45ec-8ebb-cfb2ae13618b}] - C:\Program Files\Acer ProShield\FFExt20 => not found
FF HKLM-x32\...\Firefox\Extensions: [smartwebprinting@hp.com] - C:\Program Files (x86)\HP\Digital Imaging\Smart Web Printing\MozillaAddOn3
FF Extension: (HP Smart Web Printing) - C:\Program Files (x86)\HP\Digital Imaging\Smart Web Printing\MozillaAddOn3 [2013-05-07] [Legacy] [not signed]
FF Plugin: @adobe.com/FlashPlayer -> C:\Windows\system32\Macromed\Flash\NPSWF64_32_0_0_156.dll [2019-03-12] (Adobe Systems Incorporated -> )
FF Plugin: @microsoft.com/GENUINE -> disabled [No File]
FF Plugin: @videolan.org/vlc,version=2.0.6 -> C:\Program Files\VideoLAN\VLC\npvlc.dll [No File]
FF Plugin-x32: @adobe.com/FlashPlayer -> C:\Windows\SysWOW64\Macromed\Flash\NPSWF32_32_0_0_156.dll [2019-03-12] (Adobe Systems Incorporated -> )
FF Plugin-x32: @java.com/DTPlugin,version=1.6.0_37 -> C:\Windows\SysWOW64\npdeployJava1.dll [2012-10-29] (Sun Microsystems, Inc. -> Sun Microsystems, Inc.)
FF Plugin-x32: @microsoft.com/GENUINE -> disabled [No File]
FF Plugin-x32: @Microsoft.com/NpCtrl,version=1.0 -> c:\Program Files (x86)\Microsoft Silverlight\4.0.50401.0\npctrl.dll [2010-04-01] ( Microsoft Corporation) [File not signed]
FF Plugin-x32: @microsoft.com/WLPG,version=15.4.3502.0922 -> C:\Program Files (x86)\Windows Live\Photo Gallery\NPWLPG.dll [2011-05-13] (Microsoft Corporation -> Microsoft Corporation)
FF Plugin-x32: @microsoft.com/WLPG,version=15.4.3538.0513 -> C:\Program Files (x86)\Windows Live\Photo Gallery\NPWLPG.dll [2011-05-13] (Microsoft Corporation -> Microsoft Corporation)
FF Plugin-x32: @videolan.org/vlc,version=2.0.6 -> C:\Program Files (x86)\VideoLAN\VLC\npvlc.dll [2013-04-14] (VideoLAN) [File not signed]
FF Plugin-x32: Adobe Reader -> C:\Program Files (x86)\Adobe\Acrobat Reader DC\Reader\AIR\nppdf32.dll [2018-06-29] (Adobe Systems, Incorporated -> Adobe Systems Inc.)
Chrome:
=======
CHR HKLM-x32\...\Chrome\Extension: [bicnnkjibmphdeigoodpjlcklcnaobdj] - C:\Program Files (x86)\TornTV.com\torntv10.crx <not found>
CHR HKLM-x32\...\Chrome\Extension: [dknkjnkhedbanphkkpbpcgoblmkbfhlf] - C:\Users\MatejI\AppData\Local\CRE\dknkjnkhedbanphkkpbpcgoblmkbfhlf.crx <not found>
CHR HKLM-x32\...\Chrome\Extension: [fjoijdanhaiflhibkljeklcghcmmfffh] - <no Path/update_url>
CHR HKLM-x32\...\Chrome\Extension: [lifbcibllhkdhoafpjfnlhfpfgnpldfl] -
hxxps://clients2.google.com/service/update2/crx
==================== Services (Whitelisted) ====================
(If an entry is included in the fixlist, it will be removed from the registry. The file will not be moved unless listed separately.)
R2 AtherosSvc; C:\Program Files (x86)\Bluetooth Suite\adminservice.exe [105120 2011-09-16] (Atheros Communications Inc. -> Atheros Commnucations) [File not signed]
R2 English20; C:\ProgramData\Readers Digest\Eng20s.exe [925696 2010-02-04] () [File not signed]
R2 GREGService; C:\Program Files (x86)\Acer\Registration\GREGsvc.exe [29696 2011-05-26] (Acer Incorporated) [File not signed]
R3 hpqcxs08; C:\Program Files (x86)\HP\Digital Imaging\bin\hpqcxs08.dll [249344 2009-09-20] (Hewlett-Packard Co.) [File not signed]
R2 hpqddsvc; C:\Program Files (x86)\HP\Digital Imaging\bin\hpqddsvc.dll [133120 2009-09-20] (Hewlett-Packard Co.) [File not signed]
R2 HPSLPSVC; C:\Program Files (x86)\HP\Digital Imaging\bin\HPSLPSVC64.DLL [1037824 2009-09-20] (Hewlett-Packard Co.) [File not signed]
R2 IconMan_R; C:\Program Files (x86)\Realtek\Realtek PCIE Card Reader\RIconMan.exe [1751656 2011-01-13] (Realtek Semiconductor Corp -> Realsil Microelectronics Inc.)
S3 IDriverT; C:\Program Files (x86)\Common Files\InstallShield\Driver\11\Intel 32\IDriverT.exe [69632 2005-04-03] (Macrovision Corporation) [File not signed]
R2 IviRegMgr; C:\Program Files (x86)\Common Files\InterVideo\RegMgr\iviRegMgr.exe [110736 2010-05-21] (Corel Corporation -> InterVideo)
R2 MsMpSvc; C:\Program Files\Microsoft Security Client\MsMpEng.exe [22072 2012-09-12] (Microsoft Corporation -> Microsoft Corporation)
R2 Net Driver HPZ12; C:\Windows\system32\HPZinw12.dll [71680 2008-12-03] (Hewlett-Packard) [File not signed]
R3 NisSrv; C:\Program Files\Microsoft Security Client\NisSrv.exe [368896 2012-09-12] (Microsoft Corporation -> Microsoft Corporation)
R2 NOBU; C:\Program Files (x86)\Symantec\Norton Online Backup\NOBuAgent.exe [2804568 2010-06-01] (Symantec Corporation -> Symantec Corporation)
R2 NTI IScheduleSvc; C:\Program Files (x86)\NTI\Acer Backup Manager\IScheduleSvc.exe [256832 2011-04-24] (NTI Corporation -> NTI Corporation)
R2 Pml Driver HPZ12; C:\Windows\system32\HPZipm12.dll [89600 2008-12-03] (Hewlett-Packard) [File not signed]
R2 RS_Service; C:\Program Files (x86)\Acer\Acer VCM\RS_Service.exe [260640 2010-01-30] (Acer Incorporated -> Acer Incorporated)
S3 WinDefend; C:\Program Files\Windows Defender\mpsvc.dll [1011712 2009-07-14] (Microsoft Windows -> Microsoft Corporation)
===================== Drivers (Whitelisted) ======================
(If an entry is included in the fixlist, it will be removed from the registry. The file will not be moved unless listed separately.)
R3 athr; C:\Windows\System32\DRIVERS\athrx.sys [2377216 2010-11-09] (Microsoft Windows Hardware Compatibility Publisher -> Atheros Communications, Inc.)
S3 dg_ssudbus; C:\Windows\System32\DRIVERS\ssudbus.sys [131984 2017-05-18] (Samsung Electronics Co., Ltd. -> Samsung Electronics Co., Ltd.)
S3 FTDIBUS; C:\Windows\System32\drivers\ftdibus.sys [74376 2011-03-18] (Future Technology Devices International Ltd -> FTDI Ltd.)
S3 FTSER2K; C:\Windows\System32\drivers\ftser2k.sys [85384 2011-03-18] (Future Technology Devices International Ltd -> FTDI Ltd.)
R3 igfx; C:\Windows\System32\DRIVERS\igdkmd64.sys [5363520 2014-03-20] (Microsoft Windows Hardware Compatibility Publisher -> Intel Corporation)
R3 IntcDAud; C:\Windows\System32\DRIVERS\IntcDAud.sys [342528 2014-03-26] (Microsoft Windows Hardware Compatibility Publisher -> Intel(R) Corporation)
S4 LMIRfsClientNP; no ImagePath
R0 MpFilter; C:\Windows\System32\DRIVERS\MpFilter.sys [228768 2012-08-30] (Microsoft Corporation -> Microsoft Corporation)
S3 netr28ux; C:\Windows\System32\DRIVERS\netr28ux.sys [867328 2009-06-10] (Microsoft Windows -> Ralink Technology Corp.)
R2 NisDrv; C:\Windows\System32\DRIVERS\NisDrvWFP.sys [128456 2012-08-30] (Microsoft Corporation -> Microsoft Corporation)
S3 s1039bus; C:\Windows\System32\DRIVERS\s1039bus.sys [127600 2010-03-15] (Sony Ericsson Mobile Communications AB -> MCCI Corporation)
S3 s1039mdfl; C:\Windows\System32\DRIVERS\s1039mdfl.sys [19568 2010-03-15] (Sony Ericsson Mobile Communications AB -> MCCI Corporation)
S3 s1039mdm; C:\Windows\System32\DRIVERS\s1039mdm.sys [161904 2010-03-15] (Sony Ericsson Mobile Communications AB -> MCCI Corporation)
S3 s1039mgmt; C:\Windows\System32\DRIVERS\s1039mgmt.sys [141424 2010-03-15] (Sony Ericsson Mobile Communications AB -> MCCI Corporation)
S3 s1039nd5; C:\Windows\System32\DRIVERS\s1039nd5.sys [34416 2010-03-15] (Sony Ericsson Mobile Communications AB -> MCCI Corporation)
S3 s1039obex; C:\Windows\System32\DRIVERS\s1039obex.sys [137328 2010-03-15] (Sony Ericsson Mobile Communications AB -> MCCI Corporation)
S3 s1039unic; C:\Windows\System32\DRIVERS\s1039unic.sys [158320 2010-03-15] (Sony Ericsson Mobile Communications AB -> MCCI Corporation)
S3 ssudmdm; C:\Windows\System32\DRIVERS\ssudmdm.sys [166288 2017-05-18] (Samsung Electronics Co., Ltd. -> Samsung Electronics Co., Ltd.)
S2 LMIInfo; \??\C:\Program Files (x86)\LogMeIn\x64\RaInfo.sys [X]
==================== NetSvcs (Whitelisted) ===================
(If an entry is included in the fixlist, it will be removed from the registry. The file will not be moved unless listed separately.)
==================== One month (created) ========
(If an entry is included in the fixlist, the file/folder will be moved.)
2019-03-14 20:37 - 2019-03-14 20:38 - 000021948 _____ C:\Users\Aňulinka\Desktop\FRST.txt
2019-03-14 20:37 - 2019-03-14 20:37 - 002433536 _____ (Farbar) C:\Users\Aňulinka\Desktop\FRST64.exe
2019-03-14 20:37 - 2019-03-14 20:37 - 000000000 ____D C:\FRST
2019-03-14 20:14 - 2019-03-14 20:14 - 000003870 _____ C:\Windows\System32\Tasks\CCleaner Update
2019-03-14 20:14 - 2019-03-14 20:14 - 000002816 _____ C:\Windows\System32\Tasks\CCleanerSkipUAC
2019-03-14 20:14 - 2019-03-14 20:14 - 000000826 _____ C:\Users\Public\Desktop\CCleaner.lnk
2019-03-14 20:14 - 2019-03-14 20:14 - 000000000 ____D C:\ProgramData\Microsoft\Windows\Start Menu\Programs\CCleaner
2019-03-14 20:14 - 2019-03-14 20:14 - 000000000 ____D C:\Program Files\CCleaner
2019-03-14 20:02 - 2019-03-14 20:10 - 000000000 ____D C:\AdwCleaner
2019-02-27 17:47 - 2019-02-27 17:47 - 000061568 _____ C:\Users\Aňulinka\Desktop\c63c3e265769971781b8bbfed5e2407f93bf73b7-1000x1000.jpeg
2019-02-19 16:28 - 2019-02-19 16:28 - 000622492 _____ C:\Users\Aňulinka\Desktop\faktura nikon.pdf
2019-02-18 18:16 - 2019-02-18 18:16 - 000000000 ____D C:\Users\Aňulinka\Documents\My Scans
==================== One month (modified) ========
(If an entry is included in the fixlist, the file/folder will be moved.)
2019-03-14 20:38 - 2016-11-19 10:17 - 000000000 ____D C:\Users\Aňulinka\AppData\LocalLow\Mozilla
2019-03-14 20:34 - 2014-03-13 23:09 - 000000438 _____ C:\Windows\system32\Drivers\etc\hosts.ics
2019-03-14 20:34 - 2009-07-14 04:20 - 000000000 ____D C:\Windows\system32\NDF
2019-03-14 20:21 - 2015-08-02 22:14 - 000000000 ____D C:\Users\Aňulinka\AppData\Roaming\Media Player Classic
2019-03-14 20:17 - 2015-03-10 16:40 - 000000000 ____D C:\Users\Aňulinka\AppData\Local\CrashDumps
2019-03-14 20:17 - 2009-07-14 04:20 - 000000000 ____D C:\Windows\inf
2019-03-14 20:14 - 2009-07-14 05:45 - 000016976 ____H C:\Windows\system32\7B296FB0-376B-497e-B012-9C450E1B7327-5P-1.C7483456-A289-439d-8115-601632D005A0
2019-03-14 20:14 - 2009-07-14 05:45 - 000016976 ____H C:\Windows\system32\7B296FB0-376B-497e-B012-9C450E1B7327-5P-0.C7483456-A289-439d-8115-601632D005A0
2019-03-14 20:12 - 2009-07-14 06:13 - 000781782 _____ C:\Windows\system32\PerfStringBackup.INI
2019-03-14 20:09 - 2015-03-09 21:54 - 000000000 ___RD C:\Users\Aňulinka\Desktop\Na prd
2019-03-14 20:07 - 2009-07-14 06:08 - 000000006 ____H C:\Windows\Tasks\SA.DAT
2019-03-13 21:57 - 2015-03-09 22:48 - 000000000 ____D C:\Users\Aňulinka\AppData\Roaming\vlc
2019-03-12 23:31 - 2018-05-09 20:43 - 000000079 _____ C:\Users\Aňulinka\Desktop\Nový textový dokument.txt
2019-03-12 20:30 - 2018-03-14 10:08 - 000004470 _____ C:\Windows\System32\Tasks\Adobe Flash Player NPAPI Notifier
2019-03-12 20:30 - 2012-10-24 14:23 - 000842240 _____ (Adobe Systems Incorporated) C:\Windows\SysWOW64\FlashPlayerApp.exe
2019-03-12 20:30 - 2012-10-24 14:23 - 000004312 _____ C:\Windows\System32\Tasks\Adobe Flash Player Updater
2019-03-12 20:30 - 2012-10-24 14:23 - 000000000 ____D C:\Windows\system32\Macromed
2019-03-12 20:30 - 2011-10-21 04:24 - 000175104 _____ (Adobe Systems Incorporated) C:\Windows\SysWOW64\FlashPlayerCPLApp.cpl
2019-03-12 20:30 - 2011-10-21 04:24 - 000000000 ____D C:\Windows\SysWOW64\Macromed
2019-03-07 14:04 - 2019-02-11 21:43 - 000000000 ____D C:\Users\Aňulinka\Desktop\kostýmy
2019-03-04 10:11 - 2016-11-18 10:27 - 000000000 ____D C:\Program Files (x86)\Mozilla Firefox
2019-03-04 10:11 - 2016-04-26 16:15 - 000000000 ____D C:\Program Files (x86)\Mozilla Maintenance Service
2019-03-03 11:51 - 2013-04-23 18:02 - 000006634 _____ C:\Windows\WinInit.Ini
2019-03-03 11:37 - 2015-03-09 21:50 - 000000000 ____D C:\Users\Aňulinka
2019-03-03 11:35 - 2014-06-29 08:20 - 000000000 ____D C:\Users\Bez hesla
2019-03-03 11:35 - 2012-12-05 19:25 - 000000000 ____D C:\Users\Bonus
2019-03-03 11:35 - 2012-10-24 12:48 - 000000000 ____D C:\Users\MatejI
2019-03-03 11:35 - 2009-07-14 04:20 - 000000000 ____D C:\Windows\registration
2019-03-03 11:35 - 2009-07-14 04:20 - 000000000 ____D C:\Windows\AppCompat
2019-03-02 11:01 - 2016-11-18 14:54 - 000000000 ____D C:\Users\Bez hesla\AppData\LocalLow\Mozilla
2019-02-28 20:02 - 2017-08-10 11:29 - 000000000 ____D C:\Users\Aňulinka\Desktop\Nový priečinok
2019-02-24 21:26 - 2018-07-19 22:29 - 000000000 ____D C:\Users\Aňulinka\Desktop\Píííííísničky
2019-02-24 21:26 - 2017-06-27 13:18 - 000000000 ____D C:\Users\Aňulinka\Desktop\Lů
2019-02-24 21:26 - 2017-02-19 23:54 - 000000000 ____D C:\Users\Aňulinka\Desktop\šití
2019-02-24 21:25 - 2018-03-25 14:42 - 000000000 ____D C:\Users\Aňulinka\Desktop\DŮM
2019-02-24 21:24 - 2015-03-09 21:56 - 000000000 ___RD C:\Users\Aňulinka\Desktop\Všetko
2019-02-18 18:14 - 2015-04-25 14:44 - 000000000 ____D C:\Users\Aňulinka\AppData\Roaming\HP
2019-02-17 19:35 - 2012-11-04 20:34 - 003207680 ___SH C:\Users\MatejI\Desktop\Thumbs.db
2019-02-16 01:38 - 2011-10-21 03:49 - 000000000 ____D C:\Windows\Minidump
2019-02-14 20:41 - 2015-01-09 10:33 - 000004476 _____ C:\Windows\System32\Tasks\Adobe Acrobat Update Task
2019-02-13 10:51 - 2009-07-14 06:08 - 000032508 _____ C:\Windows\Tasks\SCHEDLGU.TXT
2019-02-12 17:08 - 2017-11-23 23:33 - 000000000 ____D C:\Users\Aňulinka\Desktop\Recepty
==================== Files in the root of some directories =======
2015-03-09 22:30 - 2015-03-09 22:30 - 000005487 _____ () C:\Users\Aňulinka\AppData\Roaming\DCMRXRA
2015-03-16 11:23 - 2015-03-16 11:23 - 001823744 _____ (PlayMyVid) C:\Users\Aňulinka\AppData\Roaming\DCMRXRA.exe
2015-03-09 22:30 - 2015-03-09 22:30 - 000005487 _____ () C:\Users\Aňulinka\AppData\Roaming\EYMBL
2015-03-16 11:23 - 2015-03-16 11:23 - 001823744 _____ (Browser n app) C:\Users\Aňulinka\AppData\Roaming\EYMBL.exe
2015-01-25 17:12 - 2015-01-25 17:12 - 000002086 _____ () C:\Users\Aňulinka\AppData\Roaming\WK
2015-03-16 11:25 - 2015-03-16 11:25 - 001496576 _____ (Browser n app) C:\Users\Aňulinka\AppData\Roaming\WK.exe
2015-01-25 17:12 - 2015-01-25 17:12 - 000002086 _____ () C:\Users\Aňulinka\AppData\Roaming\XIJZB
2015-03-16 11:24 - 2015-03-16 11:24 - 001496576 _____ (PlayMyVid) C:\Users\Aňulinka\AppData\Roaming\XIJZB.exe
2017-10-22 11:32 - 2018-03-31 13:47 - 000007610 _____ () C:\Users\Aňulinka\AppData\Local\Resmon.ResmonCfg
==================== Bamital & volsnap ======================
(There is no automatic fix for files that do not pass verification.)
C:\Windows\system32\winlogon.exe => File is digitally signed
C:\Windows\system32\wininit.exe => File is digitally signed
C:\Windows\SysWOW64\wininit.exe => File is digitally signed
C:\Windows\explorer.exe => File is digitally signed
C:\Windows\SysWOW64\explorer.exe => File is digitally signed
C:\Windows\system32\svchost.exe => File is digitally signed
C:\Windows\SysWOW64\svchost.exe => File is digitally signed
C:\Windows\system32\services.exe => File is digitally signed
C:\Windows\system32\User32.dll => File is digitally signed
C:\Windows\SysWOW64\User32.dll => File is digitally signed
C:\Windows\system32\userinit.exe => File is digitally signed
C:\Windows\SysWOW64\userinit.exe => File is digitally signed
C:\Windows\system32\rpcss.dll => File is digitally signed
C:\Windows\system32\dnsapi.dll => File is digitally signed
C:\Windows\SysWOW64\dnsapi.dll => File is digitally signed
C:\Windows\system32\dllhost.exe => File is digitally signed
C:\Windows\SysWOW64\dllhost.exe => File is digitally signed
C:\Windows\system32\Drivers\volsnap.sys => File is digitally signed
LastRegBack: 2019-03-14 10:44
==================== End of FRST.txt ============================